Bias Binding for Doll Clothes
You can make small bias binding yourself—all you need is a quarter-inch bias tape maker and your iron. Directions come with the maker—you simply cut a strip of fabric on the bias, run it through the bias tape maker and feed it under your iron to press flat.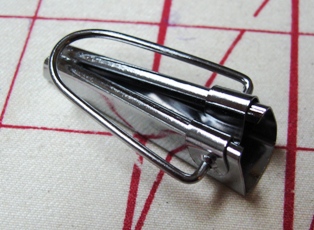 A bias tape maker will allow you to make custom bias tape.
These handy tools are popular with quilters and can probably found in any quilting shop. And the best thing is, you can make bias of any suitable fabric and match the binding to your fashion fabric exactly!

Bias binding is so handy for all sorts of uses. You can use it to make your own trim for doll clothes. You can finish the edges of doll garments that you aren't going to line - the bias binding provides a clean, finished edge to the garment. It is also handy for making tiny straps that you don't want to turn or small ties for doll clothing. You can sew it on in patterns using an appliqué application method to make a design on the surface of the fabric. Almost anything your imagination can think up! See how many uses you can find for bias binding in your doll clothing.
The best place to search for a bias binding maker is in the quilt section of your sewing supply store, or online, if that is the way you shop. It is possible you can find one that makes bias binding as small as 1/8th, which quilters use for appliqué or making Hawaiian quilts. Binding this small is excellent for use on the smallest of doll clothes! But it will also be very nice on any size of doll clothes and will keep your creations in scale with your dolls.
---
Click here for more information on trims, laces, and elastics for doll clothes --> 
---
Return from Bias Binding to Sewing Notions -->
Return to Home Page -->