How To Sew Doll Clothes—Important Sewing Tips
Learning how to sew doll clothes is not too different from making regular people clothes. But there are some vital differences that will make sewing such small clothes much easier. Follow these sewing instructions carefully and your doll clothes will look fantastic!


---
Add your own sewing tip for doll clothes here. Read Tips from other sewers at the bottom of the page.


---
What You Need To Know About Sewing Tiny Clothes For Dolls: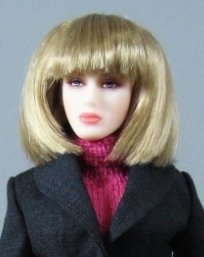 In particular, seams need to be smaller than people's clothes, and there is always the problem of bulk. Fabric is much bulkier on a doll than on a person.
Plus you may need to sew the garment together in a different order than you would for full scale clothing. Fabric needs to be considered carefully—again, avoiding bulk on a small doll, plus staying in small scale are paramount.
And linings may look a bit garish compared to what you are used to—but there are some very important reasons you should take great care with the colour of both your lining and your thread!
I'll go over each area you need to consider when sewing for dolls. If you follow these guidelines, your doll clothes should come out looking perfect and professional!

Sew a Seam

Sewing Darts in Doll Clothes

Special Sewing Instructions for Doll Clothes

Lining Fabric for Doll Clothes

Sewing Sleeves on Doll Clothes

Fashion Fabric for Doll Clothes


Do You Have a Good Sewing Tip for Making Doll Clothes?
Do you have a good tip for doll clothes sewing I haven't mentioned here? Share it with the rest of us. I'm sure we'd all like to know about your sewing tips! :-)
What Other Doll Sewers Have Said
Click below to see sewing tips from other doll sewers to this page...

---