You Need Pressing Tools to Get The Best Results in Sewing Doll Clothes
When you mention sewing equipment, pressing tools don't seem that important. But I remember my first "official" sewing lesson with my mother.
I'd been taking a sewing class at school for three years, and I complained to my mother that I couldn't get access to use the school sewing equipment—there were too many girls in the class for everyone to be able to use the equipment. She said that was no good, and decided to teach me how to sew herself.
My mother had been trained as a tailor in England when she was 16, and she used to make me beautiful clothes, much nicer than store bought. I don't know what I expected when we began... At school, we started with how to take measurements and buy a pattern and what sewing equipment to buy.
But the first thing my mother said was—you can't sew anything that looks decent if you don't know how to press it properly!
She told me I wouldn't get to touch the sewing machine until I could press seams properly.
We just used our home pressing tools—the household iron and ironing board. But we needed a few other things to press seams properly. First my mother improvised a seam roll by tightly rolling up a magazine and tying a face towel around it. Next we made a dressmaker's ham from a small pillow.
---
Proper Pressing for Great Results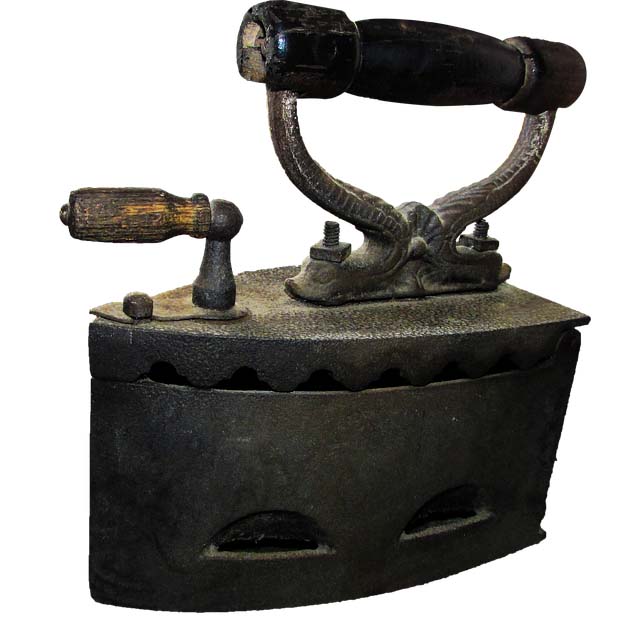 Then she showed me how to press properly—don't push the iron around like you're ironing a shirt! You have to hold the iron against the seam and apply the steam. Don't move the iron at all! To press another area, lift the iron and place it against the next area and apply steam. And don't move the garment until it has had a chance to cool off and "set". That way, your seam stays the way you pressed it.
For small areas, just use the tip of the iron. The tip will get into the smallest areas and will function just like a "miniature" iron.
And do use a pressing cloth if the hot iron will mar your fabric! Always press on the wrong side, if possible.
Pressing is the Most Important Part of Good Sewing!
Because of the way I began when I learned tailoring, I still feel pressing is one of the most important procedures you can do. I often see beautifully sewn doll clothes, but the seams are not properly pressed and it detracts from the appearance. And when you buy ready-made doll clothes, their seams are never or rarely pressed at all!
You will be surprised at how much difference proper pressing makes when you sew doll clothes!
Pressing Tools You Will Need:
For sewing doll clothes, you will need some pressing equipment that is a bit smaller than the equipment you'd use for people-sized clothes, but most of what I use, I already had from sewing clothes for myself and my family. Here is a list of ironing equipment and pressing tools you will need to get the best pressing results:

Iron

Ironing Board or Other Pressing Surface

Tailor Board or Point Presser

Sleeve Board

Seam Roll

Seam Stick or Carpenter's Pencil

Pressing Cloth

There are probably a few other tools that might be useful, but these are the main ones you will need. Don't worry about having every tool under the sun--these will get you started.


What are your favorite pressing tools for making doll clothes?
Do you have a great tip for pressing seams when you sew your doll clothes? Share your favorite pressing tools or techniques for getting into those small spaces!
Read Some Other Tips & Techniques on Pressing Tools for Doll Clothes
Click on the links below to see some great tips about pressing tools and techniques when you're sewing doll clothes. They were all written by other visitors to this page
---