Set Up Your Sewing Room or Sewing Space
A sewing room or a space to sew in is useful to have. While we can't all have the dream spaces you see in sewing or quilting magazines, a place where you can set up your sewing machine and pressing equipment will give you a good place to work.
Not only that, but you can leave your unfinished work out, ready for your next sewing session.
If you can't manage a permanent sewing space, you'll have to work with what you have.
When I lived in an apartment, there was no room for a permanent set up--I had to sew on the dining room table. We had a large cupboard in the room and a set of drawers I could use to store my stuff when I wasn't sewing. Otherwise, I spread out everything on the dining room table.
What a nuisance it was, to have to fold everything up and stow it away for meal times! I spent an awful lot of time just getting out my equipment, setting it up, and then putting it away when the table was needed--which was every meal, since that was our only table!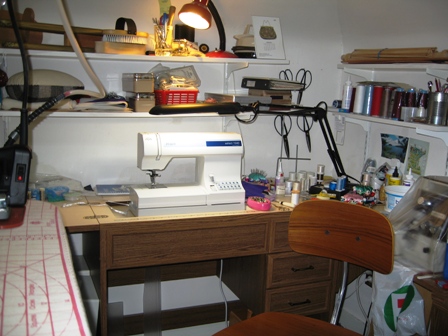 Here's my sewing space.



I was so glad to get some more space when we moved to a house. Above, you can see that I now work in the corner of my attic. It's still not a big space--but who needs a big space for sewing doll clothes? At least I can leave my work out and nobody disturbs it.
A friend of mine had her sewing space behind the furnace in the basement. It was tiny and somewhat dark, but it was all hers and no one disturbed her down there.
See if you can find some place to sew up your sewing work area.
An Efficient Sewing Room
when you set up your space, be sure you arrange your equipment where you can reach everything you need easily.
In the picture above, I have my sewing machine in the center, the serger to my right, and my ironing board to my left. Other tools and thread are place on shelves above my work area.
I have a small folding table I use for cutting out. The nice thing about doll clothes is that you don't need much space for cutting out, pressing or sewing! :-)
You could even use a quilting mat on a table for cutting out. As as I said, you won't need much space.


---