Sewing Machines for Sewing Doll Clothes
Sewing machines are the primary pieces of equipment most people think of for sewing doll clothes. Chances are, if you sew you already have a machine. If not, not to worry. You don't need to spend a lot to get started. See the section below for advice on buying a sewing machine. 
Although the seams are small, it isn't necessary to have a special type of machine to sew doll clothes. The one you have will do the job just fine. And no particular brand of machine is better than another. The brand you already own will be fine.
Some people, who sew clothes for antique dolls or reproductions of antique dolls, will even use only needle and thread. People hand sewed clothes for thousands of years and the sewing machine only came into general use in the late nineteenth century.
Buying a Sewing Machine
If you are new to sewing and have to buy a machine, the same advice applies as for purchasing any machine for sewing. Visit different stores and try out a demonstrator before you buy. You should be able to try different types and styles of machines from very basic to extremely sophisticated. What you buy depends on your budget and what you prefer. If you sew other items, this will, of course, also affect your choice of machine.
However, for sewing doll clothes, you don't need a fancy machine. A very basic machine will do just fine.
I started sewing on my mother's old black Singer 15-91. When I moved away from home, I was able to buy one for myself, for $20 from an old lady who had bought it new. You may find a used machine an excellent choice for your first machine. In fact, I would highly recommend a used machine in good condition over a cheap machine from a chain or big box store.
The Problems with Cheap Chain Store Sewing Machines

Sewing technicians say that those ultra cheap machines they sell in chain stores are all plastic, even the frame. They can wrack or twist, even under normal use, making the machine not operate at all! Or they will just wear out in short order, if you try to sew on them much. 
If your budget is small, you are definitely better off with a good used machine. They were made with a metal frame, which will not wrack or twist. They are true work horses and will last you for years, with proper service and care.
---
Buying Online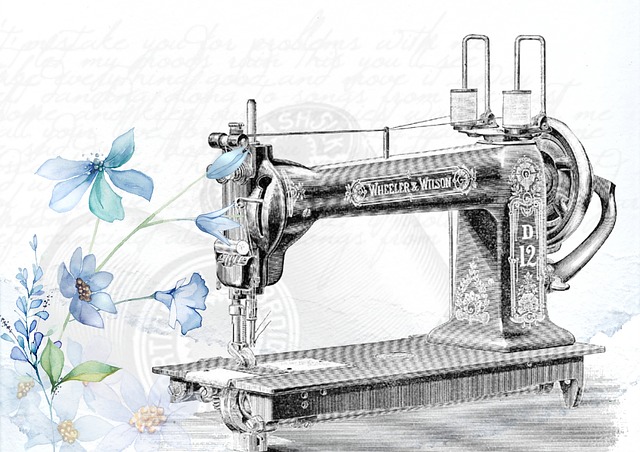 Should you buy a machine online? Well, it depends... I've actually bought a number of sewing machines online. 
Two I bought from a sewing shop in my province where I could drive to it if needed (I live in a very rural area so it would be a lot of driving!) I have dealt with them regularly and knew they were a reliable shop and I had no problems. I bought a basic sewing machine for my husband (he makes his own clothes) from a sewing dealer I'd dealt with for years, but they were thousands of kilometres away in another province. Again, I'd dealt with them for years for all kinds of things. 
I bought a cover stitch machine from a shop in another province, but they were selling it through Amazon. It worked out well, as the shop had a good reputation. But I'd be careful with buying on Amazon or some other major site. I'd definitely not buy one from an unknown source overseas! I've also bought an old Singer 501A on eBay from a dealer, and that worked out well. 
So buying online is a reasonable option for finding a sewing machine. You just need to be careful about it. But then, you need to be careful when buying anything online! Do your research. 
SIDE NOTE: As I write this, we are currently in a pandemic and getting a sewing machine has been hard. Buying online may be an only option, depending on where you live. The current situation also is affecting service times for sewing machines. You just have to do what you can manage, depending on your circumstances and where you live.
My Sewing Machines

I currently have several machines and I choose the best one for the job I am working on. I still use my mechanical Pfaff Select from 2002, But I also have a modern computerized Pfaff, which is handy for fancy stitches I use to decorate my doll clothes. Although I own a serger, I find it uses too much thread in the seams and that makes them bulky, which it something you don't want in small doll clothes. I also have an embroidery machine, also used for embroidery designs on my doll clothes. 
But no one needs fancy sewing machines to get started! A good basic machine will do the job. 
---
Sewing Machine Attachments Needed
For best results, you'll need a few attachments for sewing machines. Two accessories I find the most helpful are a quilting foot and a straight-stitch presser-plate. 
Quilting Foot

A quilting foot is a presser foot used to make quarter-inch seams. Common in quilting, these narrow seams are also used in doll clothes to avoid bulk. Many machines come with a quilting foot these days, since quilting is so popular. But if yours didn't, it is easy to get one for your sewing machine. Be sure to get one that fits your brand of sewing machine.

If a quilting foot is not made for your machine, it is possible to buy generic feet from a large sewing supplier. Just be sure to send them the shank style , machine make and model number so they can fit you up with the correct foot for your machine. Note: not all machines will be able to use generic feet these days, particularly the higher end models. Check your manual or get advice!

Click here for more information on Presser Feet you will need.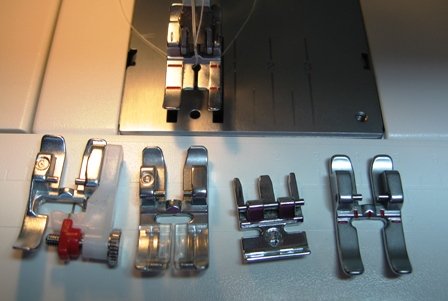 On the machine: a quilting foot. From Left to Right: Edging Foot, General Purpose Foot, Zipper Foot, Embroidery Foot
---
What Kind of Machine Needles Should You Use?
If you are already a sewer, no doubt you already have some machine needles . And if you are just buying your first machine, they usually include a few common machine needles to get you started.
The universal needles that come with your machine are fine for most sewing applications. But there are a few other types of needles you might find handy.

Click here to find out everything you need to know about machine needles.


---