Sewing Machines for Sewing Doll Clothes
Sewing machines are the primary pieces of equipment most people think of for sewing doll clothes. Chances are, if you sew you already have a machine.
Although the seams are small, it isn't necessary to have a special type of machine to sew doll clothes. The one you have will do the job just fine.
And no particular brand of machine is better than another. The brand you already own will be fine.
Buying a Sewing Machine
If you are new to sewing and have to buy a machine, the same advice applies as for purchasing any machine for sewing. Visit different stores and try out a demonstrator before you buy. You should be able to try different types and styles of machines from very basic to extremely sophisticated. What you buy depends on your budget and what you prefer. If you sew other items, this will, of course, also affect your choice of machine.
However, for sewing doll clothes, you don't need a fancy machine. A very basic machine will do just fine.
I mostly use my mechanical Pfaff for sewing doll clothes, but I also have a Singer Featherweight, a Husqvarna computerized machine and a Singer treadle. Any of these machines work as well as another for me.
Sewing Machine Attachments Needed
For best results, you'll need a few attachments for sewing machines. Two accessories I find the most helpful are a quilting foot and a straight-stitch presser-plate.
Quilting Foot
A
quilting foot is a presser foot used to make quarter-inch seams. Common in quilting, these narrow seams are also used in doll clothes to avoid bulk. Many machines come with a quilting foot these days, since quilting is so popular. But if yours didn't, it is easy to get one for your sewing machine. Be sure to get one that fits your brand of sewing machine.
If a quilting foot is not made for your machine, it is possible to buy generic feet from a large sewing supplier. Just be sure to send them the shank style , machine make and model number so they can fit you up with the correct foot for your machine.

Click here for more information on Presser Feet you will need.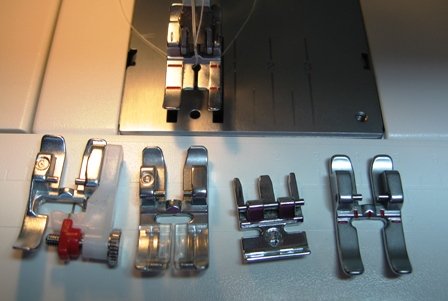 On the machine: a quilting foot. From Left to Right: Edging Foot, General Purpose Foot, Zipper Foot, Embroidery Foot


Straight-Stitch Plate
The other accessory is the straight-stitch presser plate . Most machines come with an all-purpose foot and an all-purpose presser-plate. This allows you to switch from straight stitching to zig-zag to fancy stitches without changing any accessories on the machine. But for fine stitching on thin fabric, the fabric can often get "sucked" down the presser-plate hole. This might happen on fine cottons, chiffon, silk charmeuse, and other fine or thin fabrics. And these are the type of fabrics often used in doll clothes.
You usually have to buy another presser-plate only for straight stitch. It will have a single small hole for the needle to only do a straight stitch. That way, the hole is too small for the needle to push the fabric through the hole. And, you need to use a fine needle (60 to 70) on these types of fabrics, as well.
Straight stitch presser-plates are also available at your sewing machine dealer. They are not usually included when you buy your machine.
What to do if a straight-stitch plate is not available for your machine?
What do you do if a straight stitch presser-plate is not available for your machine? You can "make" one out of card stock. Cut a small round hole for the needle and holes for the feed dogs to fit through. Then tape it over the big hole on your existing presser-plate.
Caution!
Just be sure to remove the straight stitch presser-plate or card stock substitute before you do any zig-zag or fancy stitches—or you will break your needle!
So now, all you need is a stock of sewing machine needles and you are ready to sew doll clothes!


What Kind of Machine Needles Should You Use?
If you are already a sewer, no doubt you already have some machine needles . And if you are just buying your first machine, they usually include a few common machine needles to get you started.
The universal needles that come with your machine are fine for most sewing applications. But there are a few other types of needles you might find handy.

Click here to find out everything you need to know about machine needles.


---