You Need a Decent Iron for Pressing
You will need an iron to achieve the best sewing results. Often, the only difference between a home-made look and a professional look to clothes is the way they have been pressed during sewing!
You can use what you have in your house already--no need to go out and buy new pressing equipment unless you have nothing.
One type to avoid is the kind which shuts itself off after a few minutes of inactivity. It can be very annoying to find you must keep warming up when all you want to do is keep sewing!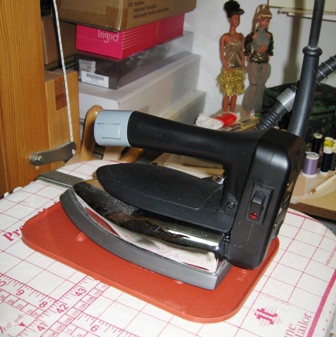 Here is mine. It is a professional gravity iron--but don't think you have to get this fancy!
Any household iron will do. We have several sewing machines downstairs, where I tend to do quilting and I just use a small household one for pressing seams.
On the other hand, you can go as high-end as your budget will allow. Just remember, you don't need fancy equipment to make doll clothes--or any other sewing for that matter.
To get started just use what you have--and if it works fine, you may never use anything else! :-)
Important!
Press every seam as you sew it. First press the seam flat to set the stitches. Then press the seam open. Your results will look professional every time.


Return from Irons to Pressing Tools Page -->
Return to the Home Page -->