You Need a Decent Iron for Pressing
You will need an iron to achieve the best sewing results. Often, the only difference between a home-made look and a professional look to clothes is the way they have been pressed during sewing!
You can use what you have in your house already--no need to go out and buy new pressing equipment unless you have nothing. A household iron will work perfectly well. A good cheap iron used to be all you needed, but recently, the very cheapest ones I've tried seem to be prone to spitting. This just makes a mess of your work. You may have to bite the bullet and spend a bit more to get something decent. 
I used to say one type to avoid is the kind which shuts itself off after a few minutes of inactivity. Unfortunately, this is almost all you can buy these days. I guess too many people burned the house down from leaving an iron plugged in and forgetting it... It is very annoying to find you must keep warming up the iron when all you want to do is keep sewing! So, unfortunately you just have to do the best you can do. 

---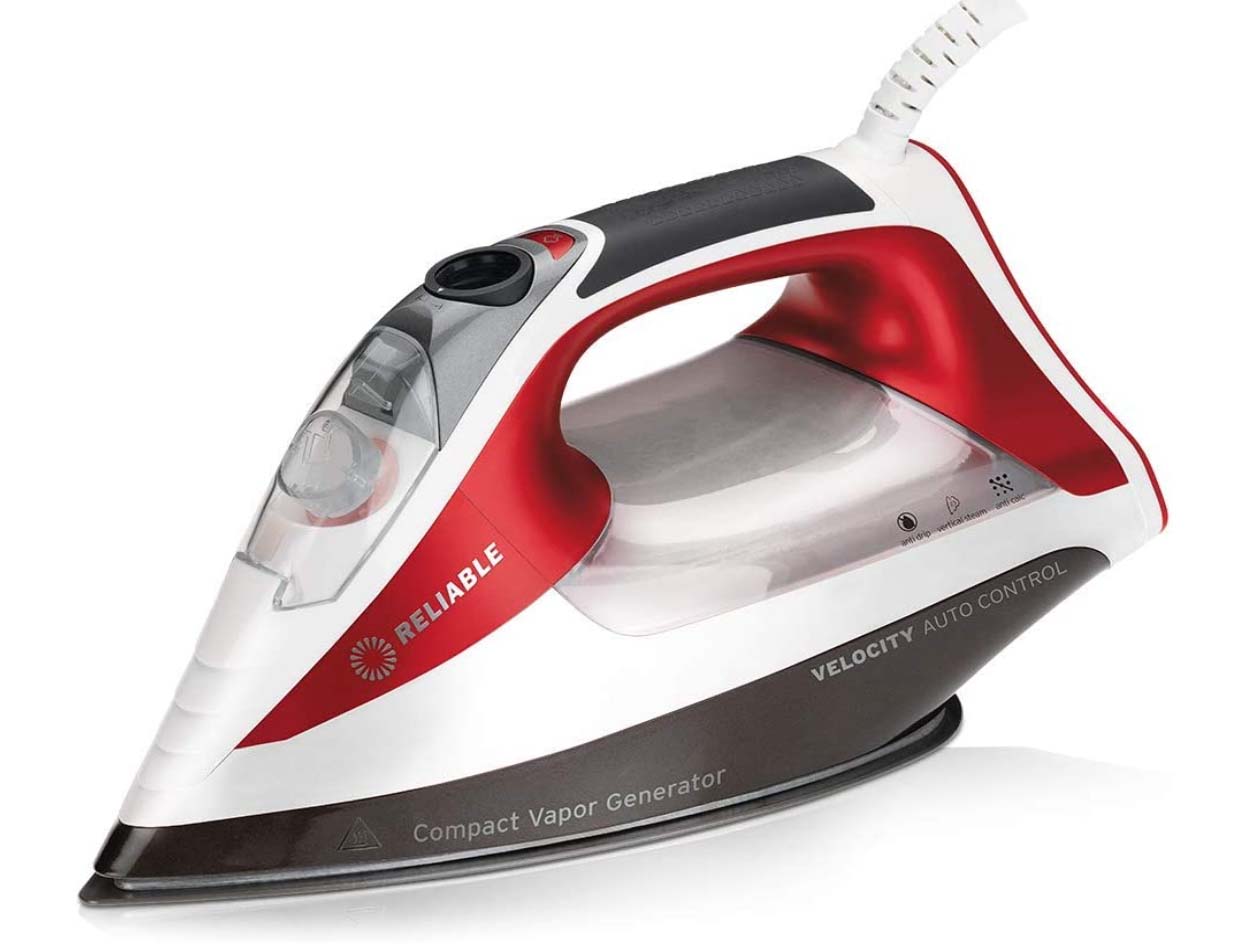 The Reliable Velocity 260IR Steam Iron
I was fortunate enough to find the Reliable Velocity 260IR Steam Iron - it will shut off automatically after 8 minutes if you do nothing, but it has a setting you can activate that keeps the iron on continuously, when you want to use that feature. It is an excellent iron that is actually a small, hand-held steam generator. It produces an amazing amount of steam for a hand-held iron! Just the ticket for tailoring, but I find it works well for doll clothes too. Even though the doll clothes are very small, since you use only the tip for some types of pressing, I've never had a problem using it, even on the smallest areas of dolls clothes. 
One sort of iron I wouldn't recommend at all are those small travel-type irons that are also sold to quilters who want to keep a hot iron next to them when quilt piecing. I have tried using those, and although they are handy for a quick press of something, they over heat terribly. One that I tried got so hot I couldn't pick it up after several minutes! Certainly uncomfortable, but also potentially dangerous!
---
Other Type of Irons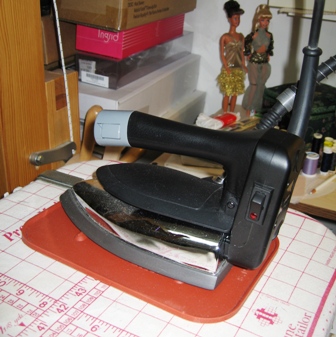 A gravity feed iron
If you can afford it and you have the room, there are a few other possibilities for pressing equipment. 
A steam generator puts out an amazing amount of steam, which is excellent for pressing. I used to have one. They have a water reservoir and steam generation set up that sits on a metal stand. The iron is connected to the steam generator/water reservoir by a hose that conducts the steam to the iron. The iron itself is fairly light since it doesn't contain anything and is just an iron. You turn the steam generator on with a knob on the basic unit on the stand and you can control the amount of heat you want in the iron. The steam generator is fairly portable (relatively speaking...) since you can move it around your room or from room to room where you want to work.

A gravity feed iron is also very nice. This iron consists of a water reservoir that hangs from the ceiling. It is connected to the iron by a hose to feed water to the iron. The steam is actually made in the iron itself, so it is a simpler mechanism than a steam generator, which is reflected in the price. You can pick up a gravity feed iron for a lot less than a steam generator, an advantage. But you need a place to hang it, so it is not portable at all. You install it where you are going to work and that is it! I used to have a gravity feed iron before we moved, and it was wonderful not just for sewing, but for any sort of household ironing as well!
Another possibility is a simple non-steam iron. This would probably be a pretty old iron, but people sometimes still find them used. They are very popular with people who sew doll clothes for antique or reproduction antique dolls. You need to have a fine mister-type bottle to dampen the fabric with these. The whole procedure would be similar to the way housewives used to iron the family laundry. My mother used to save an old pop bottle or something similar. You buy could a stopper with little holes to put in the top of the bottle. Then you would fill it with water and sprinkle your clothes with the water, roll them up, and wait until the water penetrates the laundry enough that you can iron it. My mother used to iron pillow cases and my father's shirts this way. A mister will speed things up since you don't have to wait. It is certainly an inexpensive way to iron clothes! 
You can go as high-end as your budget will allow. Just remember, you don't need fancy equipment to make doll clothes--or any other sewing for that matter. To get started just use what you have--and if it works fine, you may never use anything else! 
---
Very Important!

Press every seam as you sew it. First press the seam flat to set the stitches. Then press the seam open. Your results will look professional every time. 


Return from Irons to Pressing Tools Page --> 
Return to the Home Page -->