How a Pressing Cloth Can Improve Your Sewing Results
A pressing cloth is awfully useful. It keeps the hot iron from marking your fabric and also keeps it from flattening the texture of the fabric. They are essential for good tailoring, whether for humans or dolls. And using a press cloth will improve your sewing results immeasurably.
Press cloths can be made from many things—even things you have around the house. Let me explain what makes a good pressing cloth. And it can vary, depending on what type of material you are sewing.
Store Bought Pressing Cloths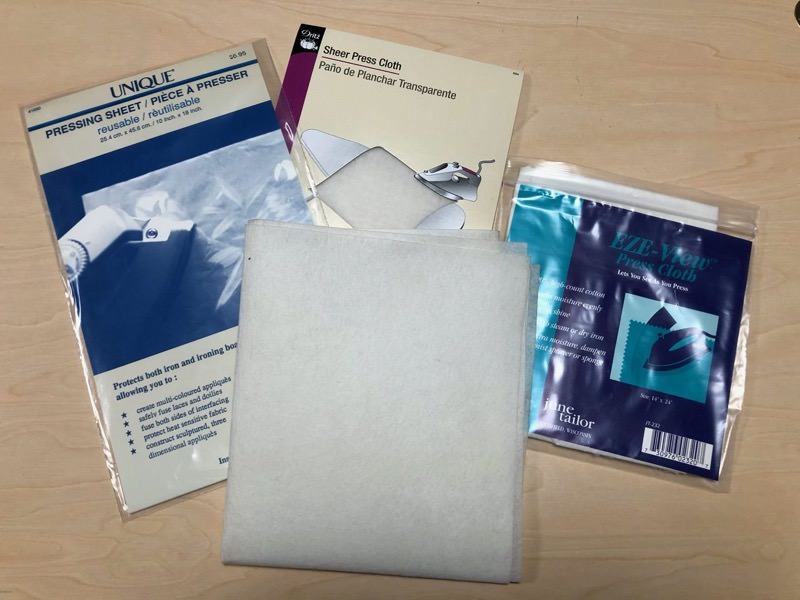 A selection of different commercial press cloths.
Of course, you can buy press cloths in the store. There are several types available, from see-through ones made of an interfacing-type material to thick ones impregnated with special finishes for tailoring. They all work perfectly well. Just be sure you read the instructions and pick the correct cloth for the job. I find one made of a non-woven interfacing-like material works well on many fabrics. 
Using a press cloth is also essential for applying iron-on interfacing. Nothing gunks up an iron quicker than just using a bare iron sole plate to apply iron-on interfacing! And while you can buy a product to remove gunk from your iron, it is easier still just not to gum it up in the first place! 
It is also handy when using a fabric starch or stiffener such as Best Press. A stiffener can be used on extremely thin, fine material, such as fine cotton lawn, to make it more manageable. It also gives the fabric more body and can make the doll dress look a lot better than when it is very limp. But you don't want to get this substance on your iron sole plate either. I use both a press cloth and what I call my "junk iron", a cheap household iron I've had for years. It presses reasonably well, but not as well as my really good iron, so it gets reserved for these messy jobs and saves the good iron. But using a pressing cloth still keeps it's sole plate nice and clean. 
Since I've been using pressing cloths, I've not had to clean an iron sole plate for years!
Make Your Own Press Cloth
On the other hand, you can make your own. It is especially easy to use large scraps of material you have left over. Self fabric works brilliantly on most fabrics! I find it's especially good for tailoring wool cloth—it prevents shine and the texture blends perfectly with itself for pressing.
For a DIY see-through cloth, consider using a piece of silk chiffon! It keeps the hot iron off the material, eliminating marks and you can see through it better than the store-bought kind.
Of course, you can always use a spare piece of muslin as a press cloth. Or any other similar type of fabric you may have extra in your stash.
But whatever you have, be sure to use it regularly. The results will show in your sewing!


---
Return to from Pressing Cloth Page to Home Page
Return from Press Cloth Page to Pressing Tools Page