Sewing Machine Feet Needed for Sewing Doll Clothes
You don't need a whole selection of sewing machine feet for sewing doll clothes, although you can, of course, collect as many as you want. The main feet you will need are the quilting foot, the general purpose foot, and the edging foot.
Quilting Foot
Among the sewing machine feet you will use most often is the quilting foot. It is constructed with one side measuring one quarter inch on the right side of the presser foot. Quilters usually use a seam allowance of one quarter inch, and this foot allows them to simply use their presser feet to sew quarter inch seam. Doll clothes also have quarter inch seams, so a quilting foot is just as handy for you in sewing doll clothes. The right-hand edge of the foot measures exactly one quarter inch, so you can use it as a guide for your seams. This is the foot I use most often.
It is handy to pair a quilting foot with a straight stitch presser plate. This is a presser plate with only a small, round hole. You can only do straight stitch with it. It is useful for fine or thin fabrics, to keep them from being "sucked" down the presser plate hole, as often happens with your general purpose plate. Warning: just be sure you change the presser plate before you do zig-zag or fancy stitches, or you will break your needle!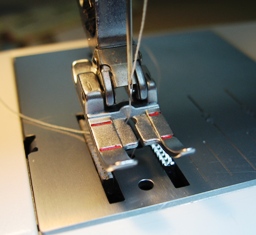 A Quilting Foot



General Purpose Foot
The general purpose foot, of course, is the one which came on your machine. You use it with the general purpose presser plate that also came with your machine. You will use it to do zig-zag stitching or fancy stitches, if your machine is programmed to do them.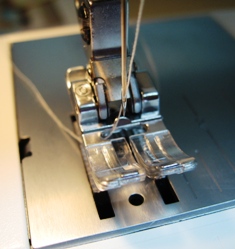 A General Purpose Foot



Edging Foot
The edging foot is good for several things. For one thing, you can use it to zig-zag over the raw edges of seams to keep them from raveling. The edging foot has a little wire or piece of metal that holds the edge of the material steady while you zig-zag over the edge. Without it, you just don't get as neat an edge. I use it for finishing seam edges frequently, since it doesn't take a lot of thread and produced a thinner finish. I find using a serger or overlocker uses just too much thread and make a very fat seam finish. You want to use a seam finish that produces the least bulk, since doll clothes are small and any bulk will make the seams look way to fat.
Of course, you could finish the seams by hand. This produces even less bulk, but does take more time and patience!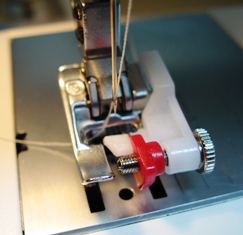 An Edging Foot for a Pfaff Sewing Machine



Other Sewing Machine Feet You May Need
These three feet may be all you need for doll sewing. But, of course, you can add as many sewing machine feet as you want!
You may want to add an embroidery foot, a zipper foot, or a ruffler. A walking foot will help you keep your seams straight. There are an endless number of accessories available for sewing machines. Check with your sewing machine dealer or look in the manual that came with your machine.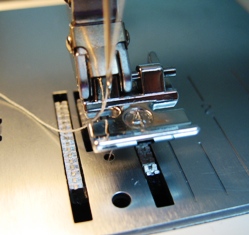 A Pfaff Zipper Foot



An embroidery foot can also be helpful for fancy work. It has an extremely open toe so you can see what you are doing. You can use this foot for fancy stitches built-in or programmed into your machine. Plus it's handy for applying applique--all techniques you can use to make your doll clothes stand out from the generic crowd! :-)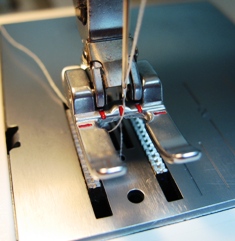 An Embroidery Foot


---
Return from Sewing Machine Feet to the Sewing Machine Page -->
Return from Sewing Machine Feet to the Home Page -->