Doll Buckles, Snaps and Hooks & Eyes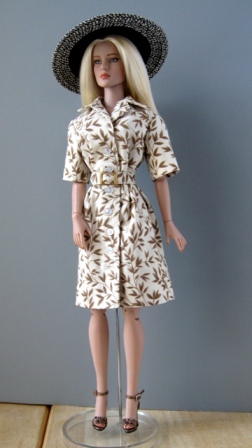 Good doll buckles make all the difference. Tyler's belt matches her shirtwaist dress perfectly!
A supply of doll buckles is a great way to make your own doll belts. Buy a supply and keep them on hand. It's a pleasure to be able to match the belt to your doll outfit.
Don't pay a lot of money for cheesy doll belts. You can make your own that look much better!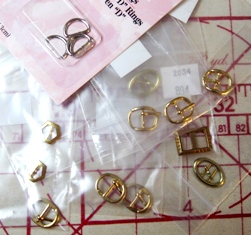 A selection of buckles for dolls.
Don't pay a lot of money for cheesy doll belts. You can make your own that look much better! Use your imagination - match the belt to the garment or make a contrasting belt in another colour or material. You're in charge!

Accumulate a supply of various garment fasteners among your sewing notions. Doll-size buckles can be found from various supplies, such as Dritz for Dolls or other places. They range from Barbie size to larger for bigger dolls. They come in various shapes, in either gold or silver colour. Always keep a few on hand.
---
Other Fasteners You Will Need
There are a number of other fasteners you will need for your doll sewing supplies. We've already discussed Doll Zippers. You will also need a selection of snaps (press studs) and hooks and eyes.
Hooks and Eyes

You will need are hooks and eyes. Get the smallest ones you can find, usually a size 4 or if you can find them, size 5. These make really nice fasteners if you're not going to use a doll zipper. They are also a bit easier to fit on the doll and apply over sewing in a zipper. But it depends on the style of dress you are making for the doll. 
I  keep about 5 or 6 cards on hand, in both black and silver colour. Black for dark garments and silver for light ones.
In fact, if you are sewing for historic dolls such as antique dolls or even reproductions, hooks and eyes are the only authentic way to fasten a garment. They didn't have zippers and snaps are mainly used on modern dolls. In most cases, you will use a hook and simply sew a thread loop to hook it onto.
---
SIDEBAR
Did you know that zippers were invented in the early twentieth century to fasten boots? And no decent clothes used zippers? Until the middle of the twentieth century, high quality clothing was always fastened with hooks and eyes. Zippers were only used in cheap clothing.

---
Snaps (Press Studs)
Snaps are another way to fasten doll clothes. Look for size 5/0 or 5mm, if you can find them. Avoid plastic snaps--they're just too large and won't look right. Plus I find them difficult to pry apart once they are snapped shut.
Again, get a supply in both black and silver--use silver with light-coloured fabrics and black with dark. 

---
Return from Doll Buckles to Sewing Notions Page -->
Return to Home Page -->